RUNNING
Install the latest version of Yaba Sanshiro from Google Play .
Dump CD-ROM image from your own SEGA Saturn game CD-ROM. CHD is the best file format. You can get my CHD dump tool from here
Place this CD-ROM image file to your Android device storage: ' /sdcard/yabause/games/( /sdcard/Android/data/org.devmiyax.yabasanshioro2.pro/files/yabause/games/ on Android 10 or above)' which is the default directory uoYabause will find the games(recommended). You can also place the game images on an external SD card or for the Shield TV, on an external Hard Drive.
Run uoYabause on your Android device.
If it's the first time, checking the settings for your device is recommended. Recommended settings are below. See Settings section for details.

Cartridge:

'32Mbit Backup RAM' it's enough to save tons of game status.

Rendering engine:

'OpenGL ES Video Interface' Fast and full-hd rendering.

Frame skip:

'Off' for accurate rendering, but will be slow except for high performance devices like SHIELD TV etc.

Input device:

'Game pad' on screen pad is not enough for action games.

Sound:

'On'

Push 'Load Games' button and select the file name you located at 3.
Have a fun!!!!
GAME MENU
In playing game, you can send commands to emulation by selecting menu items which appear after you swipe left side of the screen or press back button.
EXIT
Finish the emulationa and back to game select screen.
OPEN/CLOSE CD TRAY
Multi disk game needs to change disk. You can change disks by selecting this menu item.
RESET
Reboot the emulation.
SAVE STATE & LOAD
Take a snapshot of the game and select 'Load State' menu, you can reload state.
SCREENSHOT
Take a screen shot of the game you are running.
REPORT
Report bugs or the state of emulation quality to developers.
Enable/Disable Analog Control
Switch controller from digital mode to analog mode.
SETTINGS
BIOS
Select which type of bios rom you use. build-in BIOS is defalut. This BIOS emulates the minimum necessary functions. To chose another bios, place a bios ROM file to yabause/bios directory on your Android device.
CARTRIDGE
Select which type of Cartridge is installed on you emulated SEGA Saturn. Backup RAM is external back up ram to save game data. RAM is external ram for same games which use huge ram like King of Fighters.
VIDEO CORE
Select which type of rendering engine Yaba Sanshiro uses. 'OpenGL Video Interface' is fast and hi-res rendering for polygons but it have compatibility issues. 'Software Video Interface' is more collect graphics but slow.
SHOW FPS
Show or Hide 'Frame per second' which means speed of emulation on your device. '60/60' is the best performance and equal to the real SEGA Saturn speed.
FRAME SKIP
When FPS is less than 60, Yaba Sanshiro skip a frame to reach 60 fps. if this option is enabled, Yaba Sanshiro may lost frames, Furthermore may be broken internal SEGA Saturn emulation. 'Off' is recommended for accurate emulation.
KEEP ORIGINAL ASPECT RATE
If this option is disabled, Yaba Sanshiro draw to the entire screen. Otherwise Yaba Sanshiro keeps good old 4:3 scren size.
INPUT DEVICE
You can choose a game pad name, if your android device is connected to a game pad. Otherwise On Screen pad is the only option you can choose.
EDIT KEY MAP
If you choose a game pad, you can select this list item. and you can map your game pad buttons to the virtual SEGA Saturn game pad step by step. If your game pad doesn't have enough amount of button for the virtual SEGA Saturn, you can skip the step by push the button "skip".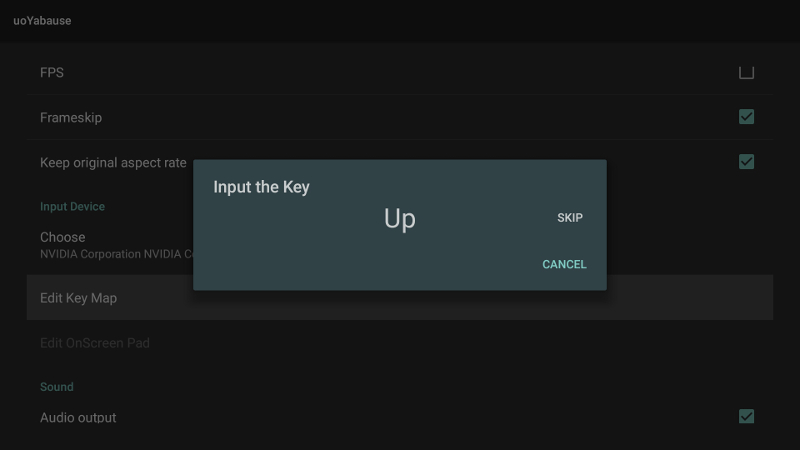 TEST ON-SCREEN PAD
If you choose a on-screen game pad, you can select this list item. and you can adjust the size of on screen pad for your hands and screen size.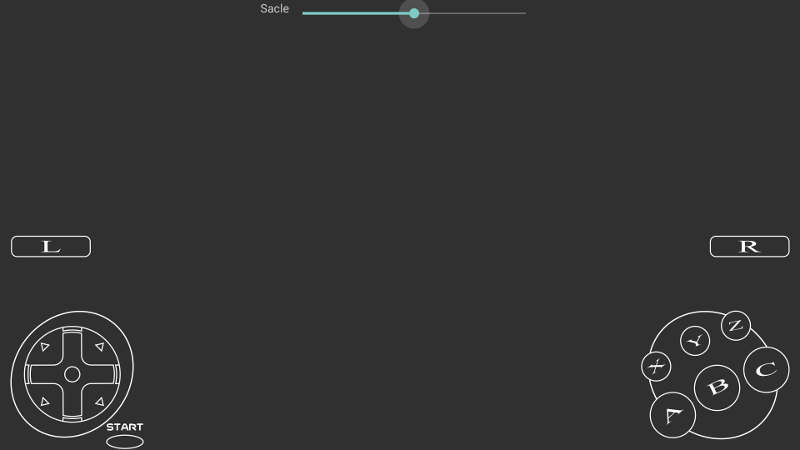 AUDIO OUTPUT
If this option is enabled, Yaba Sanshiro play sounds.
RUN USING INTENT
You can run Yaba Sanshiro using Intent. the Intent parameter is following.
Target:

org.uoyabause.uranus/org.uoyabause.android.Yabause

Key:

org.uoyabause.android.FileNameEx

Type:

String

Value:

absolute file path for a game CD-ROM ISO image