INSTAL
Download the latest deb file from here.
Use iOS App Signer to sigin your own signing certficate and install deb file
RUNNING
Install the latest version of Yaba Sanshiro.
Dump CD-ROM image from your own SEGA Saturn game CD-ROM. Cue sheet is the best if you want to listen to CD Audio. I always use CD manipulator. If you know of any other good dumper, please let me know.
Place this CD-ROM image file to your iOS device via iTunes.
Run 'Yaba Sanshiro' on your iOS device.
---
Emulation menu
By swiping left center of the emulation screen with two fingers, you can enter game menu.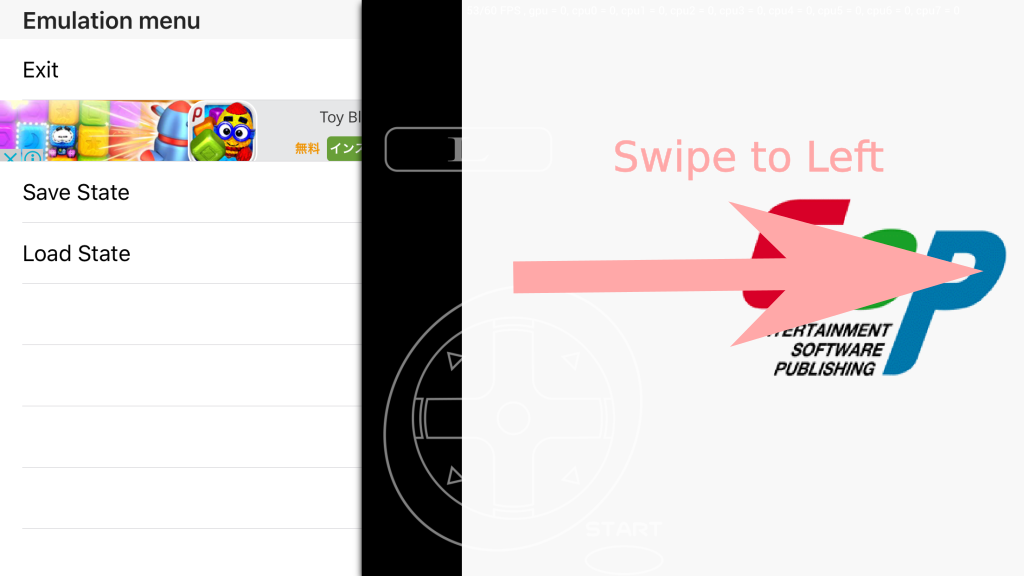 EXIT
Exit to home screen.
SAVE STATE
Save the current state.
LOAD STATE
Load the state saved previously.
---
SETTINGS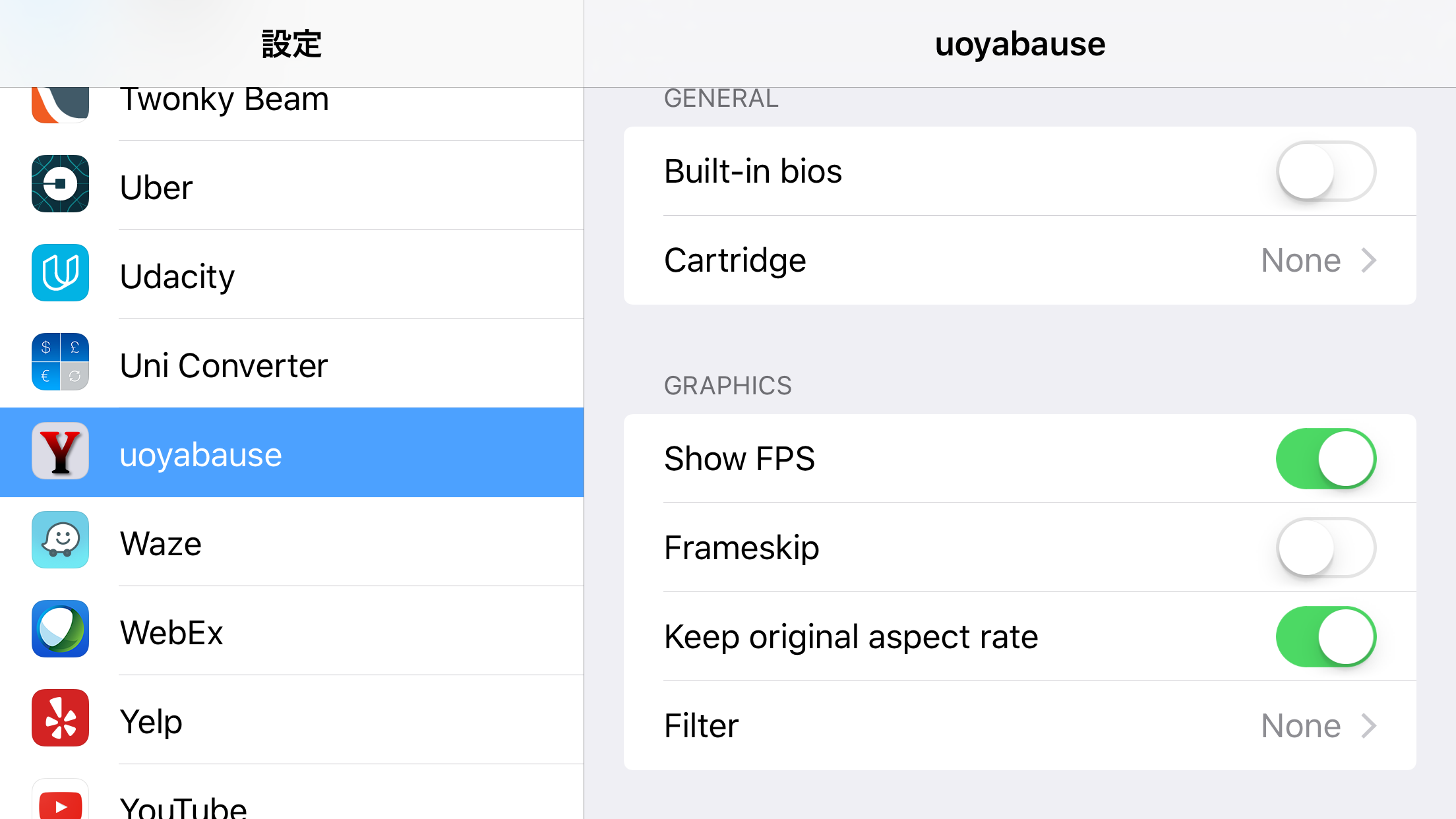 BUILT-IN BIOS
Select which type of bios rom you use. build-in BIOS is defalut. This BIOS emulates the minimum necessary functions. To chose another bios, place a bios ROM file as the file name 'bios.bin' via iTunes.
CARTRIDGE
Select which type of Cartridge is installed on you emulated SEGA Saturn. Backup RAM is external back up ram to save game data. RAM is external ram for same games which use huge ram like King of Fighters.
SHOW FPS
Show or Hide 'Frame per second' which means speed of emulation on your device. '60/60' is the best performance and equal to the real SEGA Saturn speed.
FRAME SKIP
When FPS is less than 60, uoYabause skip a frame to reach 60 fps. if this option is enabled, uoYabause may lost frames, Furthermore may be broken internal SEGA Saturn emulation. 'Off' is recommended for accurate emulation.
FORCE LANDSCAPE MODE
Automatically switch to Landscape mode when emulations is started.
ROTATE 90 DEGREE
Screen is rendered rotating 90 degree for some vertical scroll games like 'RayForce'
KEEP ORIGINAL ASPECT RATE
If this option is disabled, uoYabause draw to the entire screen. Otherwise uoYabause keeps good old 4:3 scren size.
RENDERING RESOLUTION
Native ... Native resolution of your ios device.
4x
2x
Original ... Original SEGA Saturn resolution.
Sound Engine
You can choose 'Hight quality but heavey' or 'Low quality but light'
---
Controller
uoYabause has on screen game pad. But you can also use MFI game controllers which are officially supported by Apple. The key mapping is fixed as the image below.